About Attorney Kevin Murphy
Kevin began his private practice career at the nation's leading management-side labor and employment firm. Back then, Kevin represented the nation's largest employers in discrimination, retaliation, harassment, wage and hour, labor, and non-competition litigation, in both class actions and individual cases. Kevin took several of these cases to trial before federal and state courts, secured the dismissal of others through motion practice, successfully resolved many others through formal and informal mediation, and represented employers in federal and state agency investigations.
Kevin's Experience
Kevin also advised large, midsize and small businesses on a variety of employment-related matters, including the enforceability of non-competition agreements, and drafted effective policies aimed at avoiding litigation and creating a healthy and supportive culture within these businesses.
In 2016, Kevin left his career as a management-side attorney to represent individuals because people deserve the same quality of representation enjoyed by Fortune 500 companies.
Kevin now represents individuals in all types of employment disputes, including discrimination, retaliation, whistleblower actions, severance negotiations, equal pay violations, sexual harassment and assault, non-compete contracts, labor rights, wage and hour violations, leaves of absence, workplace safety, and executive compensation matters.
Kevin has won trial victories for clients in federal jury trials, state court trials, and arbitration. Kevin has fought employers who discriminated against clients based on their race, gender, age, disability, national origin, sexual orientation, gender identity, and military service. Kevin has fought back against retaliation based on our clients' reports of unsafe working conditions, nuclear safety threats, and illegal overtime and wage practices. Kevin represents victims of sexual harassment and sexual assault at work. Kevin also regularly defends individuals accused of violating overbearing non-competition agreements or trade secrets laws. Kevin represents whistleblowers in actions filed on behalf of the government against companies guilty of fraud.
Awards & Recognitions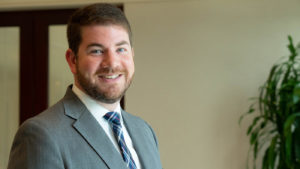 Kevin is the Immediate Past Chair of the North Carolina Advocates for Justice's Employment Law Section and has been named to the 2018, 2019 and 2020 Super Lawyers' Rising Stars lists. Kevin has an Avvo Rating of 10.0—the highest rating available from AVVO. Kevin earned a Client's Choice Award for 2018 from AVVO.* Kevin has also been selected by his peers as a member of North Carolina's 2018 Legal Elite in Business North Carolina Magazine.
Kevin handles pro bono matters for North Carolina Legal Aid and for the Western District of North Carolina's Pro Se Settlement Assistant Program.
Kevin is a frequent lecturer on employment law topics, including at the annual conference of labor and employment attorneys from both North and South Carolina where Kevin spoke on "Ethical Issues in Employment Practice" and the annual conference of plaintiffs lawyers in North Carolina where he lectured on employment law. Kevin has also presented at the Mecklenburg County Bar's seminar for attorneys entitled, "What is the Public's Policy? Wrongful Discharge after HB2," as both the organizer and a speaker.
Before his career in private practice, Kevin served as a law clerk for the Hon. Robert J. Conrad, then Chief United States District Judge for the Western District of North Carolina in Charlotte and as a law clerk for the Hon. B. Avant Edenfield, United States District Judge for the Southern District of Georgia in Savannah, Georgia.
Kevin graduated magna cum laude from the University of Georgia School of Law, where he was published as a member of the Georgia Law Review, decorated as a member of several award-winning moot court teams, and recognized by his peers with the Matlock Award for the attorney they would want representing them if ever in need. Kevin graduated with honors from the University of North Carolina at Chapel Hill with a degree in Economics and International Studies, where he led the undergraduate mock trial program, founded an annual mock trial tournament, and interned with the Global Education Center.
Kevin is a member of St. Peter Catholic Church and serves as a volunteer with St. Matthew Catholic Church's Mel's Diner ministry, which has been feeding the hungry since 2001. Kevin also volunteers his time with Charlotte-Mecklenburg Schools' Lunch with a Lawyer program.
Kevin is barred in North Carolina and admitted to practice in the United States District Court for the Western District of North Carolina, the Middle District of North Carolina, and the Eastern District of North Carolina. Kevin is also admitted to practice before the United Court of Appeals for the Fourth Circuit and all courts in North Carolina.
*The Avvo Rating is Avvo's evaluation of a lawyer and is calculated using information the lawyer has included on their profile in addition to the information Avvocollects from public sources like state bar associations and other published sources on the internet. Avvo uses the following to determine a lawyer's Avvo Rating: Experience & background, years licensed, work experience, education, legal community recognition, peer endorsements, associations, awards, legal thought leadership, publications, and speaking engagements. Avvo's denomination of a "Top Attorney" cannot be substantiated and is not intended as a comparison to other attorneys.
If you'd like Kevin Murphy to represent you,