Our Story
About Herrmann & Murphy Law Firm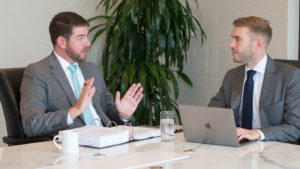 Sean and Kevin founded Herrmann & Murphy to provide high-quality, experienced, and aggressive legal representation to employees in North Carolina and South Carolina. Whether you are facing wrongful termination, discrimination, harassment, or retaliation or need advice about what to do when you discover illegal activity at work, Herrmann & Murphy has the experience to guide you through trying times.
Herrmann & Murphy prides itself on its courtroom experience. Kevin and Sean have won trial victories for clients in federal jury trials, state court trials, and arbitration. The firm treats every case as if it's going to trial even though the vast majority of employment cases are resolved long before the parties pick a jury. This approach ensures our clients the best possible results. Having your case ready for trial early shows the other side that you have no reason to settle for less than your case is worth and ensures that you are ready to prove your claims in the event the defendant refuses to pay fair compensation for your harms and losses. Both Sean and Kevin actively work together for each and every one of the firm's clients to ensure that we are never outworked or outnumbered.
Sean and Kevin met when representing opposite sides in a lawsuit and employ these varied backgrounds in representing Herrmann and Murphy's clients.
Sean has amassed tremendous experience by beginning his career practicing plaintiff's-side employment law. From the very beginning, Sean was primarily responsible for prosecuting his own clients' cases, pursuing administrative complaints, taking depositions, arguing motions, and trying cases. Sean has helped hundreds of people dealing with a job loss, workplace harassment, and other issues get back on their feet and get their lives back on track.
Kevin began his career clerking for the Hon. Robert J. Conrad, then Chief United States District Judge for the Western District of North Carolina in Charlotte, and for the Hon. B. Avant Edenfield, United States District Judge for the Southern District of Georgia in Savannah, Georgia. Kevin then represented the nation's largest employers in discrimination, retaliation, harassment, wage and hour, labor, and non-competition litigation, in both class actions and individual cases. Kevin took several of these cases to trial before federal and state courts, secured the dismissal of others through motion practice, successfully resolved many others through formal and informal mediation, and represented employers in federal and state agency investigations.
Kevin brings these perspectives from the Court and from the employer-side to tailor his clients' arguments and discovery approach to maximize results for our clients. Herrmann and Murphy blend these backgrounds to provide the best of both worlds in representing employees with problems at work.
Reach out for a consultation today.